Technology
Large Capacity Elevator

The construction of high-rise buildings has been busily advancing in recent years as construction technology advances. As buildings grow taller, so the need for elevators with larger capacities and faster speeds grows to move more passengers to their destination floors in a single go.
Izumi Garden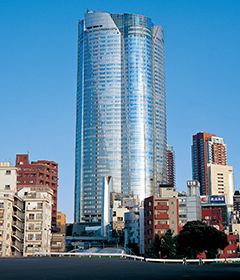 Roppongi Hills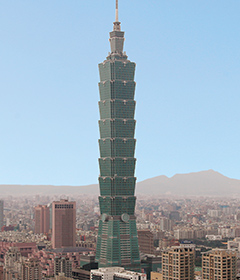 TAIPEI101
Toshiba Elevator has adapted to the market's needs to secure handling capacity with examples like Izumi Garden in Roppongi Tokyo in 2001 (75-person capacity/speed of 240m/min) and the double-decker elevator of Roppongi Hills in 2003.
Also, in 2004, we delivered the world's fastest elevator at that time (rated speed of 1,010m/min) to the TAIPEI101 in Taiwan.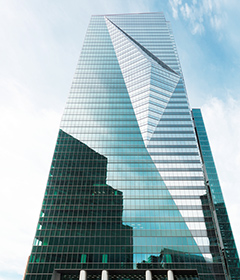 Sumitomo Fudosan Roppongi Grand Tower
Despite the opinion that elevators are approaching their maximum speed limit, we have made deliveries, such as Tokyo SkyTree and the Shanghai World Financial Center, that answer the need for even high speeds and larger capacities.
We have also delivered a large capacity (Japan's largest at 90 people) and high-speed elevator (300m/min) to the Sumitomo Fudosan Roppongi Grand Tower that opened in Tokyo in 2016.

This large cpacity/high-speed elevator is the shuttle elevator that travels at high speed between the station lobby on the 1st floor, the atrium lobby on the 4th floor, and the sky lobby on the 29th floor. Passengers can exit this elevator on the lobby floors to board local elevators to reach efficiently their destination floors.
Travel in a high-rise building using a large cpacity / high-speed shuttle elevator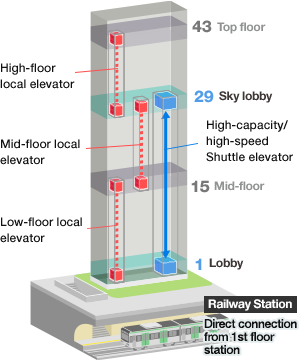 The shuttle elevator moves between the lobby floors at high speed. To travel to their destination floor, passengers transfer to a local elevator on a lobby floor. By linking high-capacity/high-speed shuttle elevators with local elevators, allows for efficient travel within a high-rise building.
Travel in a high-rise building using a large cpacity / high-speed shuttle elevator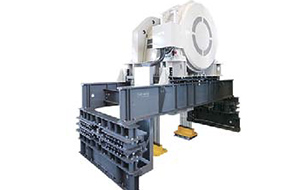 Traction machine and brake
Large cpacity shuttle elevators utilize high-output permanent magnet synchronized motors as well as a high-capacity traction machines with two windings. Additionally, through the use of brakes that are only tens of kilograms in weight per machine and caliper electromagnetic brakes that use multiple small brakes, the traction machine has been made smaller and more light weight as well as easier to maintain.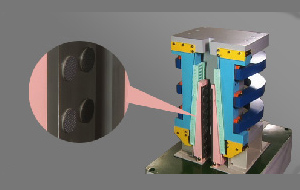 Safety devices
A double-safety method has been used where upper and lower safety devices have been installed to halt the high-capacity/high-speed car in emergencies (conventional elevators use only lower safety devices). This has allowed approximately twice the braking force without increasing the size of the safety devices.
Delivery
Large cpacity / high-speed shuttle elevator (office) r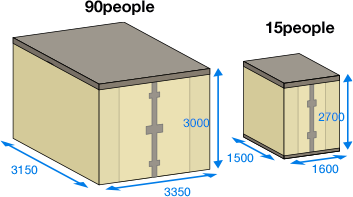 Comparison of cars for 90-person elevator and conventional 15-person SPACELGR II
As elevators grow in capacity, the cars become heavier as more passengers are carried.

Through the use of a honeycomb core floor panels, a high degree of rigidity is maintained while the overall weight of the car is lightened. This reduces the burden on the traction machine. 1/5 the weight of steel floors panels has be achieved (in-house comparison)
Double-decker elevator with inter-floor adjustment function

By having a double-floor car, the transport capacity rises by approx. 190% during peak hours.
The inter-floor adjustment function allows the double-decker elevator to be adapted to buildings with varying service floor heights.
Click here for more details on the double-decker elevator
22 person; 360m/min speed; 6 elevators; 2003
18 person; 300m/min-- 210m/min speed; 4 elevators; 2008
24 person; 300m/min fixed speed; 22 person; 150m/min rated speed; 6 elevators; 2014
Our installation examples are available to be viewed in slideshow format. Have a look
You can see our installation examples in the following order: Tokyo SkyTree, Shanghai World Financial Center, Abeno Harukas, Sumitomo Fudosan Roppongi Grand Tower, and Izumi Garden.
Installations

Sumitomo Fudosan
Roppongi Grand Tower

In October 2016, a new 45 storey landmark office building in Tokyo "Sumitomo Fudosan Roppongi Grand Tower",
Applications

Double Deck Elevator

Floor height adjustment function by Double Deck Elevator