Technology
Environmental Issue
In order to propose safe and secure elevator, ELCOSMO-III and SPACEL-III focuses on environmental issues. The advanced technologies for energy consumption and resource saving concept offers high concerns for environmental consciousness.
Energy Saving
ELCOSMO-III and SPACEL-III employs newly developed compact gearless PMSM motor which enable high energy efficiency. Furthermore, by using gearless motor, gear oil will not be necessary so it can contribute for saving natural resource.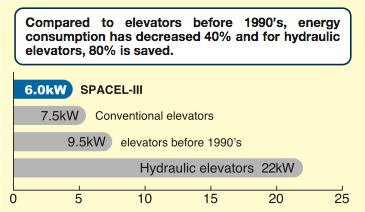 Energy Regeneration System (OPTIONAL)
Toshiba emphasizes on environmental conservation. The consumption of energy feedback system is different from using regenerative resistance. Energy regenerative device feeds energy back to the power grid while the traction machine is under power generation to achieve high-efficiency energy utilization and suppress the temperature rise in the machine room, which results in over 38% energy conservation (with the assumption of 1050kg, 1.75m/s, 12-hour operation per day, 25 days per month).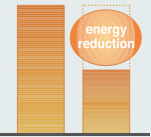 LED Lightings(OPTIONAL)
Under equal brightness, LED lighting system only consumes 10% of an incandescent lamp and 50% of an fluorescent lamp. (part of ceiling)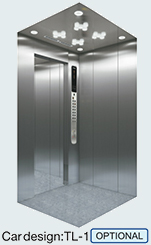 Resource Saving
Machine room less elevator(Only SPACEL-III)
By eliminating machine room, various constructing procedure and materials will not be necessary.
Eliminating lubricant oil for guide rail
By employing roller guide for both car and counter weight instead of guide shoe lubricant oil will not be necessary which guide shoe required.
Reducing Hazardous Materials
Reduction of lead use
By changing to the lead less fixing rope method, it results to reduce lead use.
Employing LED lightings
By employing LED light, various materials used for light became mercury free.
Lead-free Design of Printed Circuit Boad, RoHS Compliance and Elimination of Specific Chemical Substances (15 Classifications)
Continuous concern on the RoHS compliance, eliminating 15 classifications of specific chemical substances, and using the lead-free technique for printed circuited boards.
ELCOSMO-III and SPACEL-III, approved as ToshibaGroup's "Excellent ECP" product.
Toshiba group seeks to create environmentally conscious products and for all the products created, we set a goal to develop No.1 environmentally suitable products. Within Toshiba group, we approve environmentally high potential products as "Excellent ECP" products and SPACEL-III is one of the approved products as "Excellent ECP".
Applications

ELCOSMO-III

Compact Machine Room Elevator Passenger: 8-24persons / 60-150m/min
SPACEL-III

Machine-Room-Less Elevator Passenger: 8,11,14 persons / 60,96,105,120m/min