Ultra High Speed Elevator

Technology 02
The Technology of Providing Riding Comfort to Passengers - Car System
Vibration and noise increases along with the speed of elevator. To provide passengers comfortable riding experiences, we must overcome these two major obstacles.
Criteria such as car design and atmospheric pressure control are taken into consideration. We go through plans, investigations, simulations and inspections in order to develop the solutions for a comfortable high-speed elevator car system.
The World's First Atmospheric Control System
The distance from the 1st floor to the 89th floor is 382.2m and the difference in atmospheric is about 48 hPa . The sudden change of pressure will cause discomfort to the passengers in the elevator. Other than maintaining the air tightness in the car, Toshiba has introduced a pressure control system for the first time in the world to an elevator system to give air into the car and emit air from the car.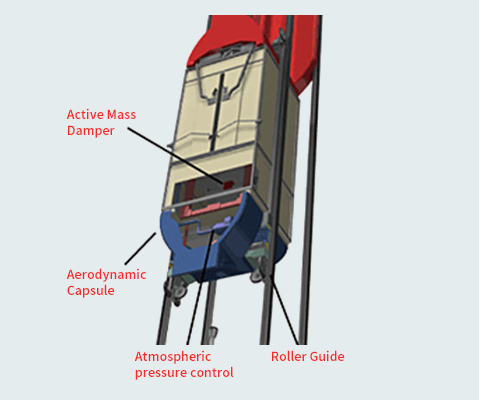 Active Mass Damper
The elevator tends to vibrate whenever the elevator travels in high speed or 2 elevators travel in different condition. In order to overcome this problem, Toshiba developed an anti vibration device named, Active Mass Damper. Once the sensor detects vibration, the counterweight will move to opposite direction to ease the vibration. The application of Active Mass Damper has reduces 20% (and above) of the momentary vibration of the elevator car.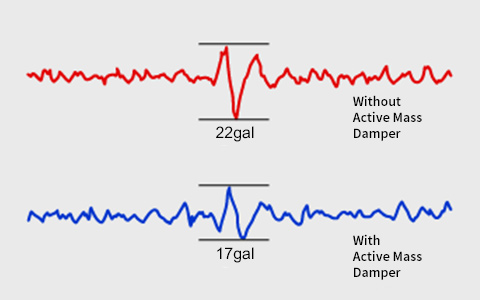 Reducing Noise-Aerodynamic Capsule
When elevator travels in a narrow shaft at high speed, wind sheer occurs. After analysis of the airflow in the hoistway and the surface pressure of the capsule, Aerodynamic capsule is employed to reduce wind sheer. Due to the reduction of sealing material at car door and application of wedge-shaped spoilers on the capsules, most of the airflow generated flows toward the sides and back of the car when the car travels.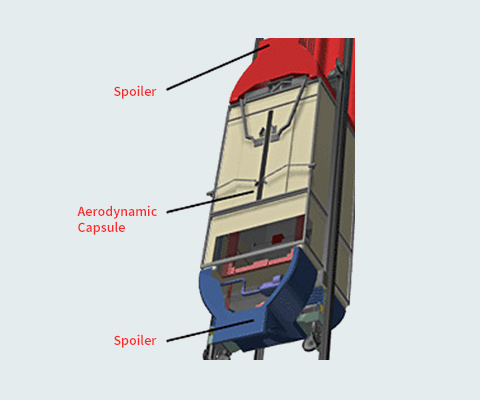 Reducing Vibration- Roller Guide
Elevator will experienced shaking force during high speed, running along the distorted or undulated guide rails, A new type of roller guide is used to isolate shaking force and absorb the vibration with proper allocation of forcing spring and having the optimum balance weight Thus, the application of the improved roller guide leads to a more comfortable ride.