Ultra High Speed Elevator

Technology 01
Technology of Achieving Ultra High Speed Elevator - Driving System
Details
Before the introduction of high-speed elevator in Taipei 101, the fastest elevator* in the world was installed in Yokohama Landmark Tower with a speed of 750m/min. To renew the record significantly with an elevator's speed of 1010m/min, a powerful driving system with control system function is needed.
*At the time,2004, the world's fastest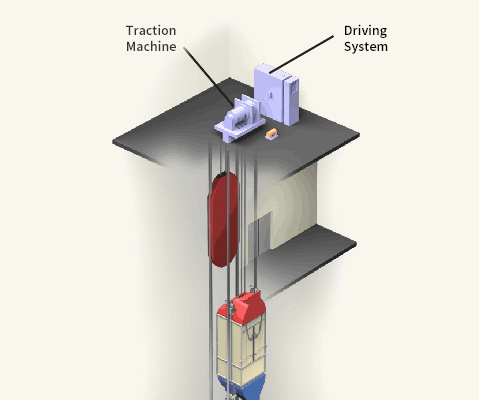 Traction Machine
The traction machine used is a newly developed twin-winding permanent magnet synchronous motor(PMSM) with standard 168kW output (highest is 1168kW) for 24 passengers. The traction machine consist a special frame to eliminate electromagnetic vibration that is greatly contribute to quiet operation when the elevator is traveling at speed of 1010m/min. Besides, Toshiba has developed a dual, multi-stage vibration-isolating structure for the traction machine to improve vibration suppression.