Compact Machine Room Type Standard Passenger Elevator
With over 40 years experiences in making elevators and researches in sophisticated PMSM (permanent magnet synchronous motor) which has been used in ultra high speed elevator, Toshiba has introduced ELCOSMO, the compact machine room type standard passenger elevator.
We further improves the existing riding comfort, livability comfort, quality of design and the cost performance in order to meet the demands of customer from different background.
The use of ELCOSMO would reduce the space required by the machine room, giving more flexibility to the building design.
Toshiba offers wide range of designs, providing solutions to all kind of buildings and deliver maximum satisfaction it's customer.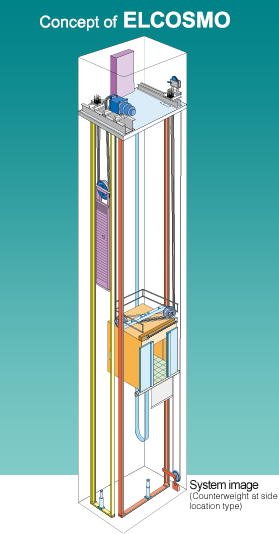 Product Line-ups
Toshiba offers wide variety of compact-machine-room elevator line-ups, which include 8-24 passengers elevators and through type double entrance elevators. To meet diversification of customer's demand, sufficient options are also available.

Environmental consciousness
Energy and space saving
ELCOSMO applies a high quality and high performance small sized PMSM traction machine and precise control system. This machine realizes energy savings and smaller space for installation. At the same time, it emits less carbon dioxide.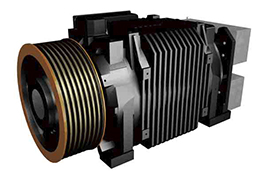 Environmental protection
Space and energy saving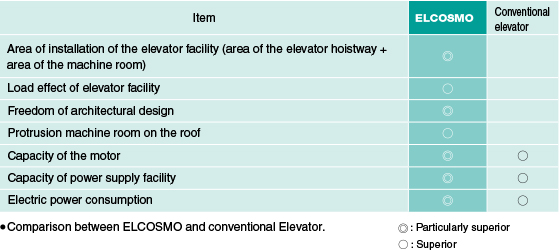 Space saving
The TOSHIBA compact-machine-room elevator lives up to its names with a machine room only half size of a conventional elevator's machine room. That reduction translates into savings in space and construction materials even while meeting the preconditions of service space for maintenance. Best of all, the minimized space requirements give architects more freedom in design and in creation of imaginative buildings.

Car Design