Machine-Room-Less Elevator
The merit of the machine roomless of SPACEL-UNI is allowing the architects to have more freedom in designing the building. Thus more selections of design are available.
With over 40 years experiences in making elevators and researches in sophisticated PMSM (permanent magnet synchronous motor) which has been used in ultra high speed elevator, Toshiba has introduced SPACEL-UNI, the machine roomless type standard passenger elevator.
We further improves the existing riding comfort, livability comfort, quality of design and the cost performance in order to meet the demands of customer from different background.
Elimination of machine room in "SPACEL-UNI" allows more freedom of the building design. Meanwhile, it contributes to space and energy saving .
To deliver customer satisfaction, Toshiba enhances the living comfort by providing efficient elevator systems to the every passenger.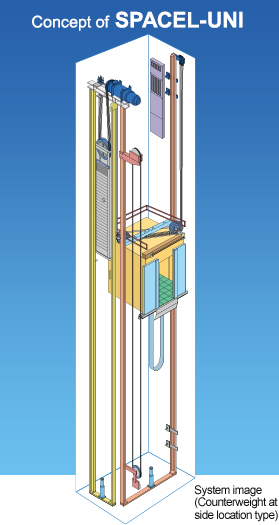 Product Line-ups
SPACEL-UNI is well-suited to office building and apartment by the compact designed machine-room-less elevator.

Environmental consciousness
Energy and space saving
SPACEL-UNI applies a high quality and high performance small sized PMSM traction machine and precise control system. This machine realizes energy savings and smaller space for installation. At the same time, it emits less carbon dioxide.
Freedom layout plan
Space and energy saving /increased layout flexibility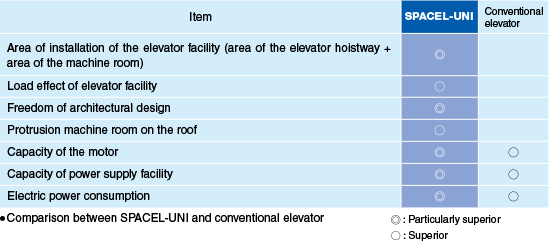 Effective footprint and flexible utility
Since SPACEL-UNI has no machine room, the footprint of the elevator equipment has been reduced to let the architects have more freedom in design with more elegant appearance and modern style buildings.
For instance, the overall area comparison of the elevator equipment in case of 13 persons capacity, rated speed 1.75m/sec and 10-floor service is as follows;
Space saving, freedom of layout
Since there is no need for a machine room with SPACEL-UNI, the location of the elevator hoistway can be designed with more freedom.

Car Design