Toshiba Expands Business Operations in Vietnam Market
- New elevator and building systems subsidiary company established in Ho Chi Minh City
Ho Chi Minh City, Vietnam - Toshiba Elevator and Building Systems Corporation (hereafter TELC, Headquarters in Kawasaki, Japan), a subisidiary company of Toshiba Corporation, today announced the establishment of Toshiba Elevator (Vietnam) Limited Liability Company (hereafter TELV).

The newly established TELV started its operation on March 1st 2019 in order to strengthen business operations in the rapidly growing Vietnamese market.

TELC entered the Vietnam market from year 2014 through a partnership with local company, New City Technology Trading Services Co. Ltd (hereafter NCE). Since then, NCE and TELC have steadily expanded business operations through sales and marketing activities in Vietnam.

Based on the NCE's success and riding on Vietnam's rapid economic growth as compared to other countries in ASEAN, it is timely for TELC to establish a subsidiary company to further build up its business opportunities. The newly founded TELV is invested jointly by both TELC and former CEO of NCE, Nguyen Tran Dinh Khoi.

By strengthening sales activity and offering high quality field services in the fast growing Vietnam market, we aim to further expand our business operations in this region.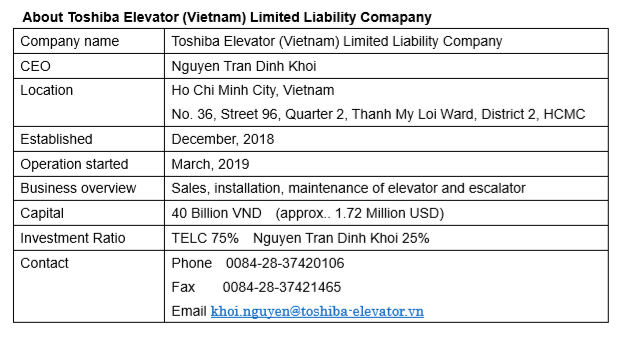 2019-03-04
Contact:
Toshiba Elevator and Building Systems Corporation
Corporate Communications Office
E-mail : elevator@po.toshiba.co.jp
Phone :+81-44-331-7001